Since quarantine kicked off last year, more of us are working from home. And as we've transitioned to a virtual office, our workwear style has also experienced an evolution. It's safe to say sweat pants have become the "pandemic uniform" and comfort reigns supreme. But now that we've been in quarantine for over a year, many of us are feeling the need to change things up. Don't worry, we're not ditching the sweats, but we're definitely feeling the urge to elevate our work from home outfits – even just a little.
So, we turned to the founders behind some of our favorite brands to see how they're navigating work from home style. And yes, a lot of them are still adhering to the "business on top, pajamas on bottom" rule, but there was one takeaway we learned: elevate your Zoom look with jewelry!
Read on to learn more from these women we admire on what to wear working from home and share your WFH style in the comments below!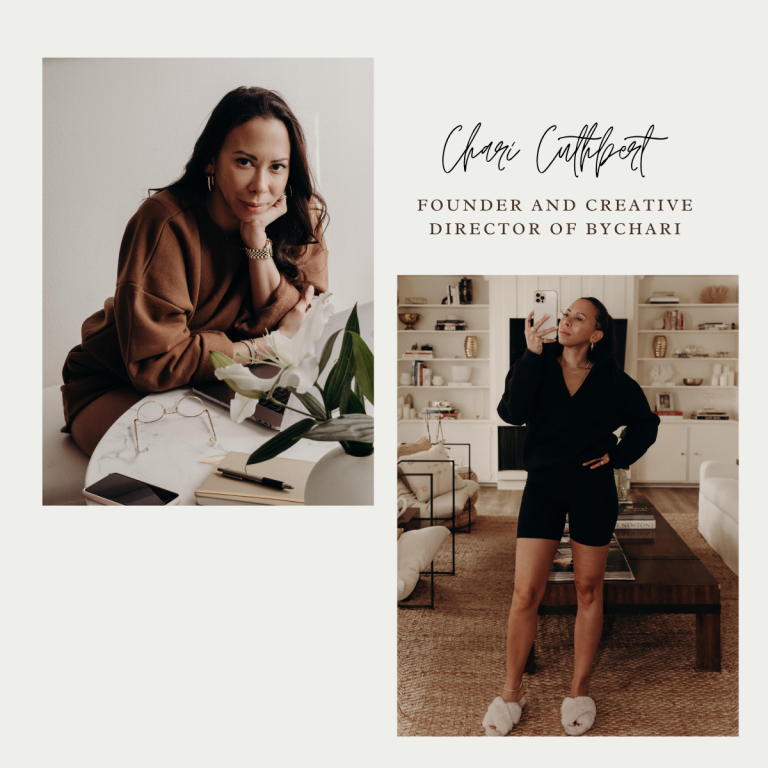 On her WFH outfit style…
I've built my WFH look off of comfortable, high-quality neutrals. I like to wear simple silhouettes in neutral colors so my jewelry, handbag, and shoes can take the spotlight. I never take my jewelry off so I'm always one step closer to being fully dressed. I'm that girl who wears her jewelry everywhere—even if I'm just going to pilates or on a walk I'm fully decked out in my earrings, bracelets, rings, etc.
On dressing up her sweats…
Even though my current look is much more function-forward than fashion-forward, I still enjoy getting dressed. My go-to WFH outfits are bike shorts, a sweatshirt, and a pair of emu slippers or a matching top and short set, and a pair of Jordans. My current favorite set is The Jamie from The Frankie Shop in brown. I love how easy the brown is to dress up with the right hair, jewelry, and shoes.
On how her style has changed in quarantine…
I think my quarantine style has evolved similarly to the way everyone else has evolved their style—less makeup, longer hair, looser clothes, focus on comfort, and we all know the business on top pajamas on the bottom trick. Now that a large majority of meetings take place over Zoom, I dedicate more time to my hair and makeup so I can make sure I look polished on video during a planned or impromptu zoom meeting.
On how to switch up your WFH look while prioritizing comfort…
Accessorizing with jewelry is a quick and comfortable way to elevate and switch up your WFH look. Adding a stack of diamond hoops, or layering necklaces with playful lipstick can make any outfit. A pair of jeans and a t-shirt can go from plain to the perfect outfit with the right jewelry.
Outfit Details:
The Frankie Shop The Jamie Short Set
Alo High-Waisted Biker Short
EMU Australia Mayberry Slippers
AGOLDE V Neck Balloon Sleeve Sweatshirt
ByChari Sade L Hoops
ByChari Initial Necklace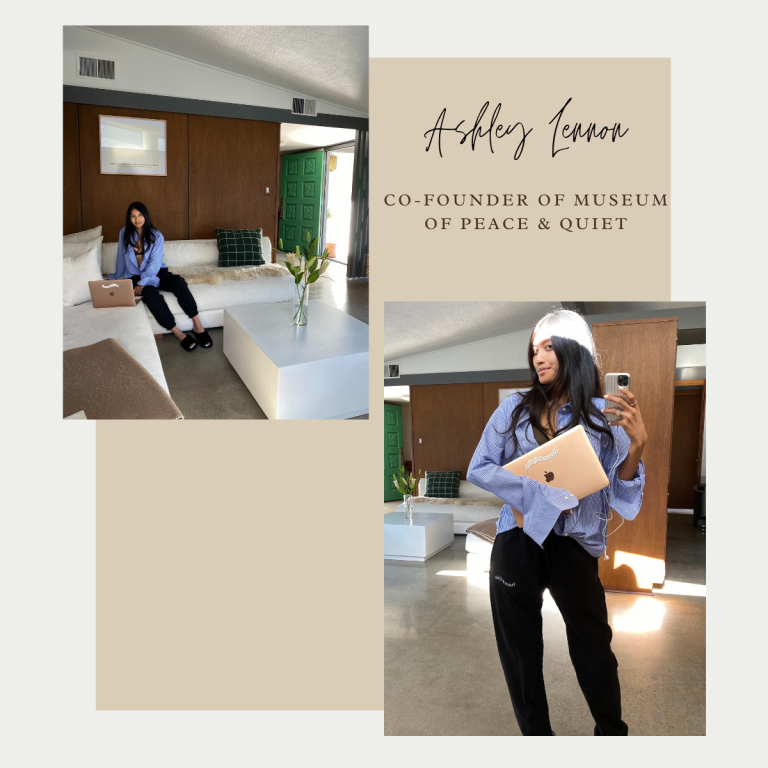 On her WFH outfit style…
Cozy. Cool. Comfortable.
On dressing up her sweats…
To be honest, I am the most comfortable in sweats. I do dress it up and style it accordingly, though. I definitely have both days!
On how her style has changed in quarantine…
I've defaulted to a more casual look. I can get more work done and free to move around as much as possible.
On how to switch up your WFH look while prioritizing comfort…
As long as you're confident, you can make anything work.
Outfit Details:
Jil Sander Oversized Striped Button-Up (GAP has a great affordable dupe!)
Everlane The Triangle Bralette
Museum of Peace & Quiet Sweatpant
Raye Shearling Slides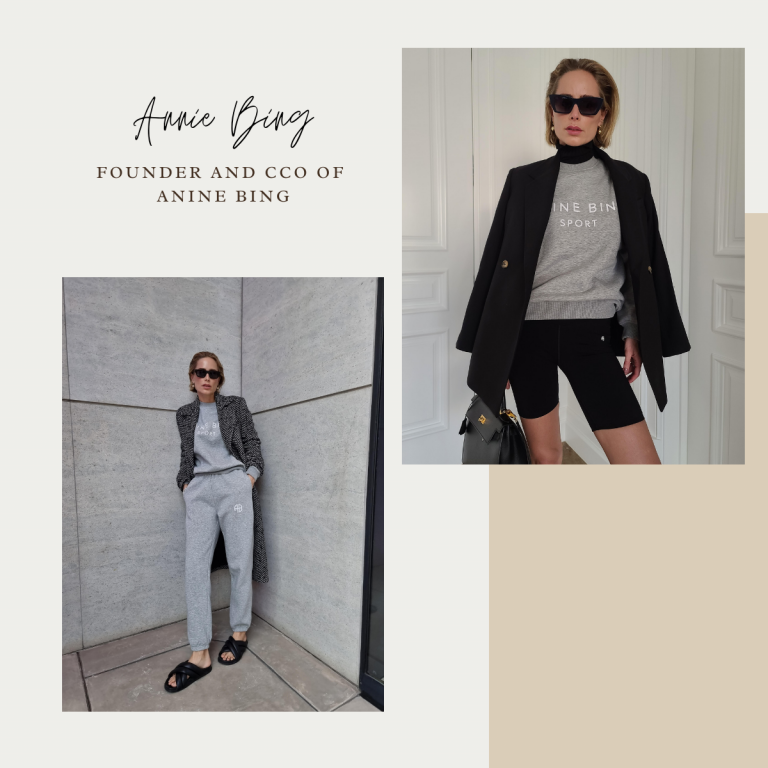 On her WFH outfit style…
Cozy yet elevated.
On dressing up her sweats…
I still get dressed everyday! At the beginning of quarantine, I was in comfy clothes all the time, and it started to get to me. I love waking up and putting on an outfit I feel confident in. With that being said, we just launched AB Sport. So I've been enjoying styling those athleisure pieces with my everyday items, like our biker shorts and a blazer or sports bra and a crisp button-down.
On how her style has changed in quarantine…
My style always stays consistent, but I would say how I style/ accessorize my looks has changed the most. I have been wearing fewer heels and more flats during the summer and boots during the winter.
On how to switch up your WFH look while prioritizing comfort…
ANINE BING Sport evolved from this concept! I wanted to create a new category that women could wear to look and feel polished but still cozy. This collection mixed with your everyday wardrobe pieces is the perfect balance of style for our new normal. My advice would be to stay cozy, but have fun with your styling! Throw a statement necklace on over your sweatshirt or blazer/coat over your favorite pair of leggings.
Outfit Details:
Anine Bing Evan Sweatshirt
Anine Bing Evan Jogger
Anine Bing Madeline Blazer
Anine Bing Clare Top
Anine Bing Elodie Coat
Anine Bing Indio Sunglasses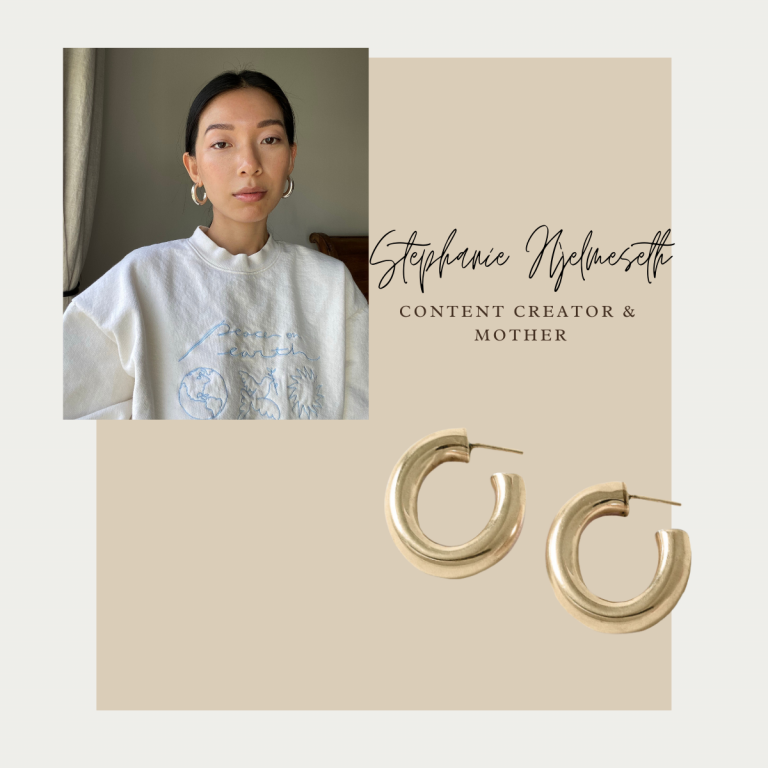 On her WFH outfit style…
My WFH outfit is elegant comfort that can withstand the chaos of toddlerhood.
On dressing up her sweats…
I absolutely wear sweats all the time, unless I have an on-video meeting. Then I'll change into a more refined blouse or sweater and I make sure I always have earrings and a necklace on to accentuate styling up top.
On how her style has changed in quarantine…
My style has shifted so much more to prioritizing comfort, without losing elegance or a flattering silhouette.
On how to switch up your WFH look while prioritizing comfort…
Matching fits are always more stylish than not and always add on jewelry to keep it elevated.
Outfit Details:
Palo Santo Studios Peace Trio Sweater
Loren Stewart Pompa Hoops Sterling Silver Earrings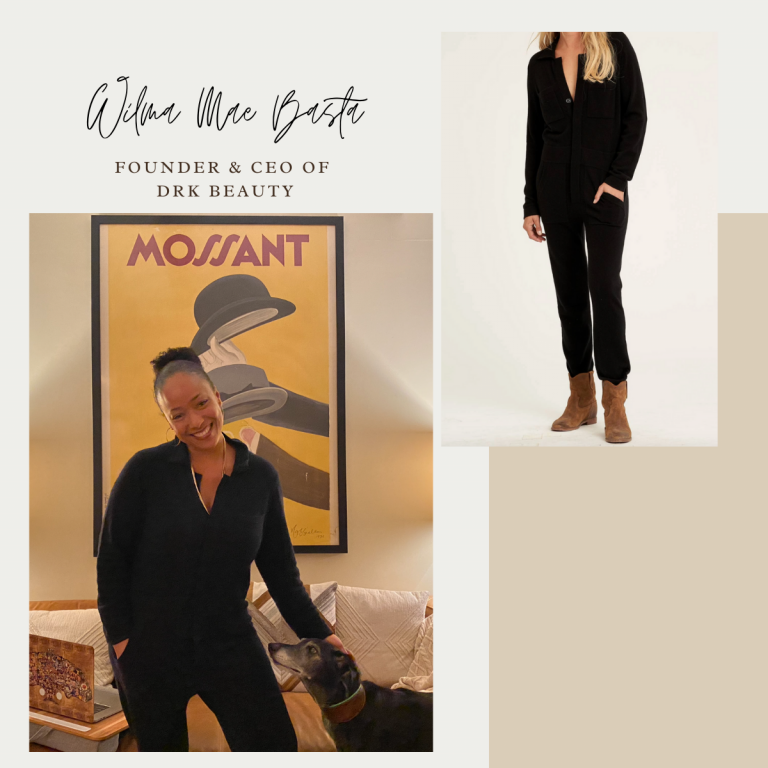 On her WFH outfit style…
The best way to describe my WFH style is "Chalet Chic."
On dressing up her sweats…
At the beginning of quarantine, I didn't care about what I wore as I was more focused on ensuring the business stayed afloat. Now that WFH is the new normal, I have embraced it. I have been buying cozy, chic winter separates mixing brands like Zara and the now-defunct Topshop with more luxe designers like Naked Cashmere, VBB, and Paco Rabanne. I am addicted to bright bold colorful sweaters too but they have to be soft. Cashmere and soft cotton jumpsuits have also been a staple this winter.
On how her style has changed in quarantine…
I have not worn a dress or a skirt in almost a year! I kind of miss that but they just don't work for my home routine. I move from desk to sofa several times throughout the day.
On how to switch up your WFH look while prioritizing comfort…
Go for the soft jumpsuits. I think they are the new power suits for the WFH era—the perfect mix of utilitarian and extreme comfort.
Outfit Details: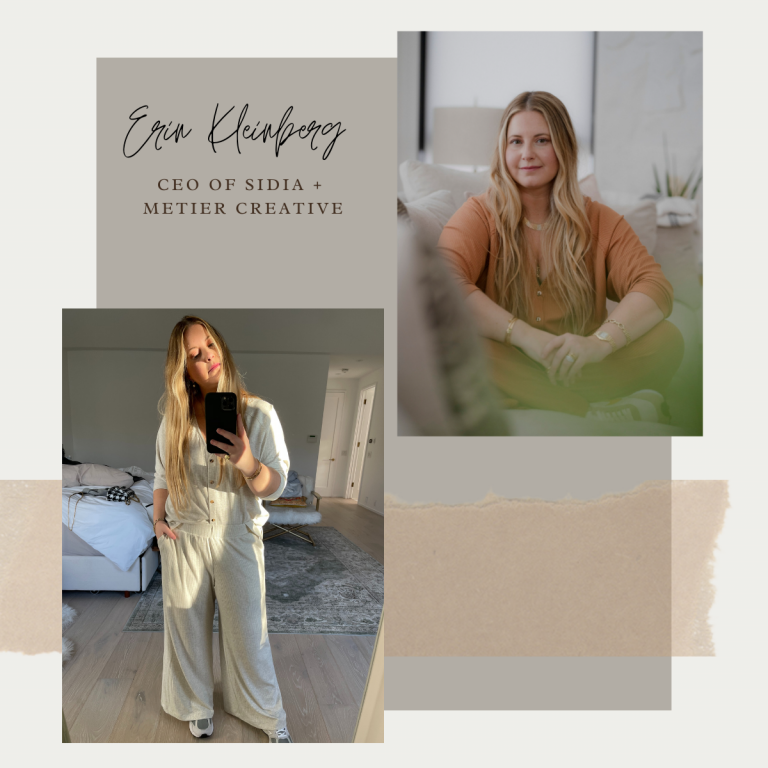 On her WFH outfit style…
Comfortable, but refined. Somewhat repetitive, but I'm not mad at it! I appreciate the ease of the uniform in these jam-packed days and not spending time mulling over what to wear.
On dressing up her sweats…
I wouldn't call them sweats, but I wear soft, cozy, leisurewear that gives me a feeling of warmth and hygge to combat the nuttiness of the work/homeschool day. I wear SIDIA Sets almost exclusively now because they elevate the look without thinking much and are soft as all hell. The deep V raglan sleeve cardi is the perfect silhouette for zooms to look put together versus a typical hoodie moment. One of our customers expressed that the sets make her feel more like herself and a notch above which I love and can resonate with.
On how her style has changed in quarantine…
Along with my SIDIA Sets, a big part of my quarantine looks include light natural everyday makeup and accessories. I wear some type of yellow gold hoops, small pearls/charms, or vintage earrings from my grandmother Sidia almost every day and do a five-minute makeup routine just to pull the look together and not look rolled out of bed! I love a fresh dewy face on Zoom to brighten the mood, LOL.
On how to switch up your WFH look while prioritizing comfort…
Loungewear can be 100% work-appropriate when paired with the right jewels, accessories, and some mascara, concealer, blush/ bronzer. I would have no problem meeting with an investor in a grey sweatshirt if I looked pulled together with the right accouterment to kick it up a level.
Outfit Details: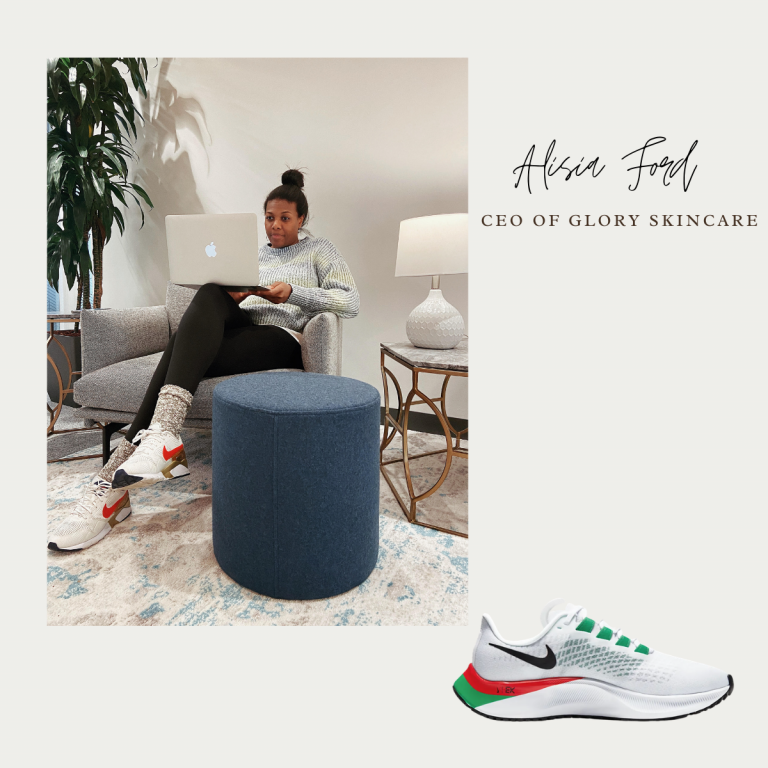 On her WFH outfit style…
I would describe my WFH outfit as comfortable and casual. I think we can all agree that the best part about working from home is having the opportunity to wear comfy loungewear all day! I like my loungewear to be soft to the touch.
On dressing up her sweats…
My go-to work-from-home outfit is leggings and a sweater. I wear it pretty much every day. Thanks to quarantine, I now own three weeks' worth of leggings.
On how her style has changed in quarantine…
My style has become a lot more casual. Before starting Glory, I was working as a corporate attorney. So, my style has definitely become more casual since then!
On how to switch up your WFH look while prioritizing comfort…
Since we're all talking to each other via Zoom and can only see waist up—it's all about the business on-top, comfy on-bottom!
Outfit Details:
Target Universal Thread Women's Crewneck Spacedye Pullover Sweater\
Lululemon Align Pant 31
Target Universal Thread Women's Slub 3pk Ankle Socks
Nike Air Zoom Pegasus 37 Eliud Kipchoge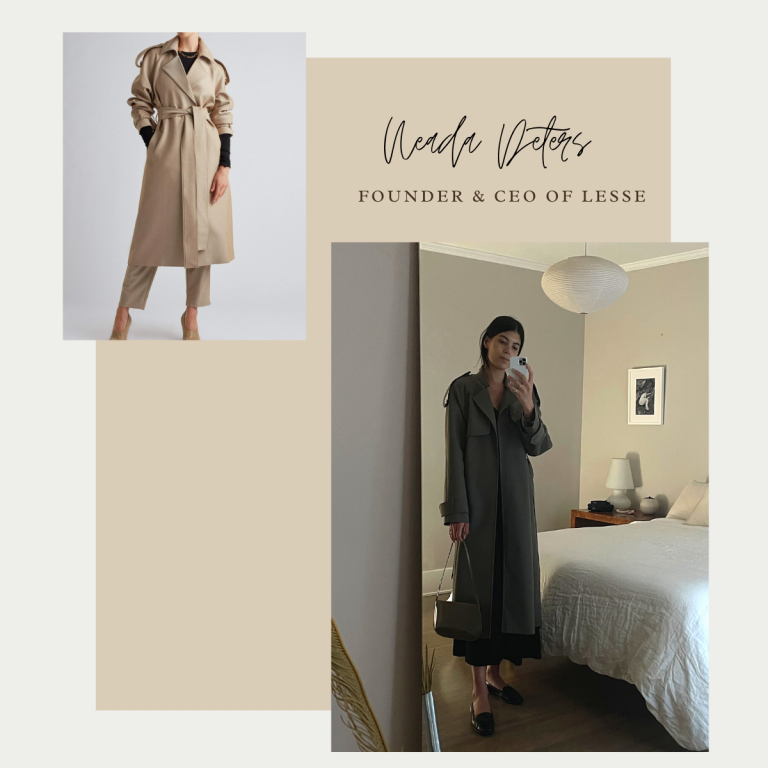 On her WFH outfit style…
Simple, tailored, and comfortable. I usually wear some variation of this outfit (pictured), or tailored trousers and a vintage button-down. This CAES dress is sustainably made from a fabric that's soft enough to sleep in. The Camilla & Marc trench hangs well but doesn't crease, and pulls any look together. I'll usually pair with slides or loafers—shoes that are easy to slip off and on at my desk. Small bags and silk scrunchies are easy ways to complete a work-from-home look and are ideal for essential errands.
On dressing up her sweats…
I usually have at least a few video meetings, so I'll almost always get dressed. It also feels good to delineate between work and rest hours, though it's often still blurry no matter what I wear.
On how her style has changed in quarantine…
It's definitely driven by comfort and practicality in a way that it never was before.
On how to switch up your WFH look while prioritizing comfort…
An oversized button-down and a well-cut pair of trousers in a non-crease fabric will always be comfortable, practical, and feel more pulled together.
Outfit Details:
CAES Ecovero Dress With Contrast Details
Camilla & Marc Tarantino Trench Coat
Chanel Patent Loafers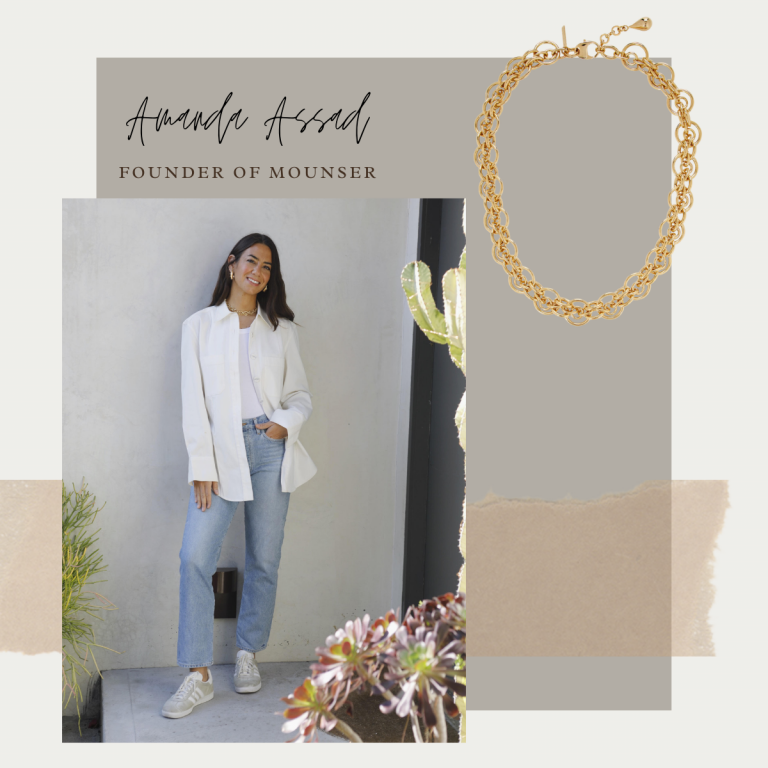 On her WFH outfit style…
Right now, it's a twist on classic pieces that are polished but not over-tailored or fussy—pieces with subtle but interesting design details. Great jeans I can move around in are a necessity. Goldsign Denim is my go-to. I pair them with ballet flats from Jil Sander or supple made-to-measure sandals from Amanu. I live in LA so I dress in light layers on top— tank tops from Totême, button-down shirts from Lemaire, and cashmere sweaters from Uniqlo and Khaite. Adidas Gazelle sneakers also make a frequent appearance—I love their nostalgic vibe. And jewelry is a staple because an incredible earring or necklace can bring a point of interest and lift the whole look.
On dressing up her sweats…
I do get dressed for work each day simply because maintaining a sense of personal style makes me feel energized and happy. Also, a big part of my creative process involves experimenting with proportion and silhouette by revising prospective jewelry designs on my own body. It helps me visualize with context if I'm doing this on the backdrop of a styled outfit.
On how her style has changed in quarantine…
My style has become more simplified and uniform based focusing on great components that feel good and aren't complicated to put together.
On how to switch up your WFH look while prioritizing comfort…
Look for pieces that are thoughtfully constructed in refined silhouettes that are made comfy by fabrics that feel good on the skin—finely woven soft poplin, jeans that move with you, cashmere knits, and soft leathers. I also rely heavily on jewelry to make an outfit sing—throwing on a little bit of sparkle is effortless and really does go a long way.
Outfit Details:
Mounser Stella Hoop Earrings
Mounser Cirque Necklace
Lemaire Green Twisted Shirt
Toteme Espera Ribbed Tank Top
Goldsign Denim The Benefit High-Rise Jean
Adidas Gazelle Sneakers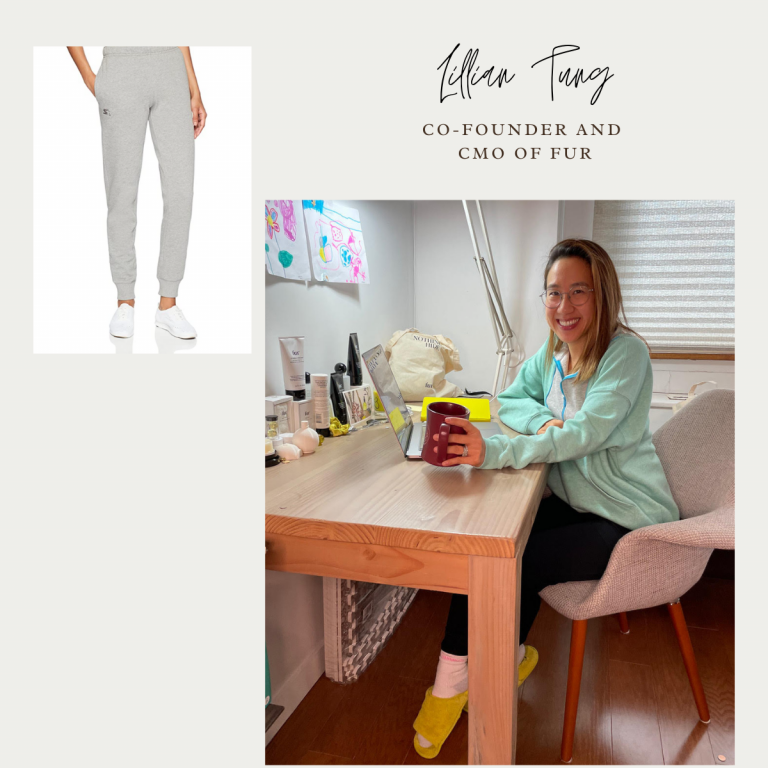 On her WFH outfit style…
My style has always been straightforward and my WFH style is similar. I try to keep it simple and comfortable but still neat so that I feel professional. Plus, having pockets is so helpful as I often pace around the apartment and don't want my phone or AirPods to be too far away!
On dressing up her sweats…
I always get dressed for work each day… in sweats. Though to be honest, I do have to get more dressed up occasionally so I'll throw on a sweater in those instances.
On how her style has changed in quarantine…
In the beginning, it was really hard to adjust with juggling WFH, homeschooling, and having a baby so it was just about surviving in whatever clothing I had around. Now that we are all more used to it, I've definitely spent more time setting up my home office as well my wardrobe. I've upgraded both my pajamas (loving Eberjey) and sweats and added fun colors so there's more personality in what I'm wearing. Plus, I still like to wear jewelry, especially earrings for Zoom calls.
On how to switch up your WFH look while prioritizing comfort…
Investing in higher quality sweats has been so helpful because they just fit better, which makes them look and feel more comfortable. That being said, I did find an Amazon sweatpant that I love from Starter which is affordable, warm, comfortable, comes in a variety of colors.
Outfit Details:
Staud New Balance x Staud Half-Zip Colorblock Knit Tunic (now sold out but the fall collection is here)
Bombas Socks
Fur Custom Slippers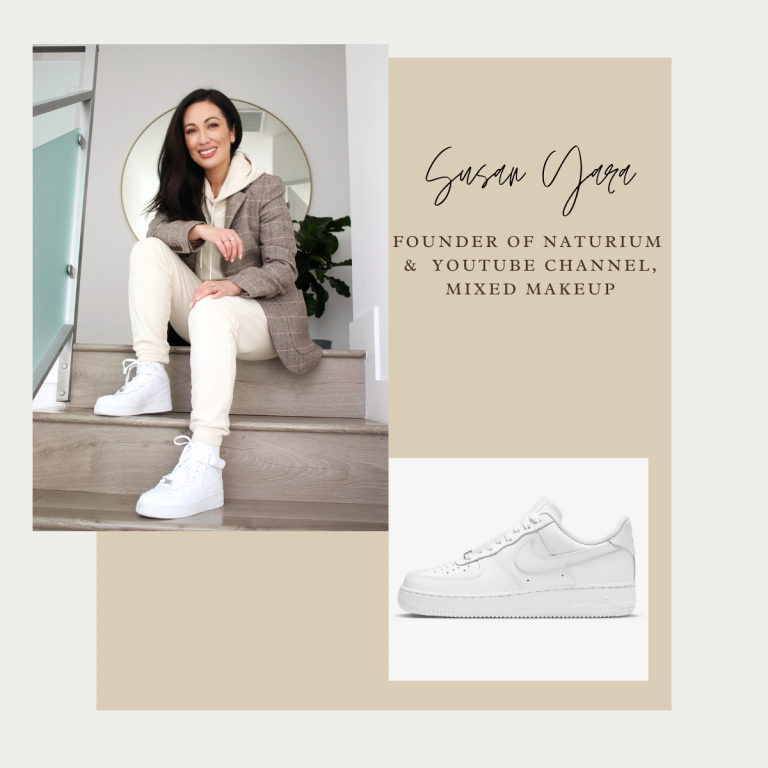 On her WFH outfit style…
Matching sets! I've been wearing knit sets, sweatsuits, and cute loungewear that border on being pajamas. I don't have to think too hard about the outfit, but it sets the tone that I'm getting ready for the day. My go-to look is beige sweats from Mate the Label with white Air Force 1s. I realize it's as basic as you can get these days, but the lighter color helps me stay positive.
On dressing up her sweats…
I'm almost exclusively in sweats or some type of loungewear these days, though I have had the itch to dress up lately.
On how her style has changed in quarantine…
If we're being honest, I have two toddlers so my style was pretty relaxed anyway. I was already living in Beyond Yoga leggings when I wasn't at the office, so the upgrade has been the addition of matching sets.
On how to switch up your WFH look while prioritizing comfort…
I sound like a broken record, but matching sets! They help you look a little more pulled together and I have a handful of blazers I throw on if I'm going to run errands or meet someone for a quick social-distanced coffee outside.
Outfit Details:
Mate the Label Organic Terry Crop Hoodie
Mate the Label Organic Terry Classic Jogger
Madewell Larsen Blazer in Plaid
Nike Air Force 1 Sneakers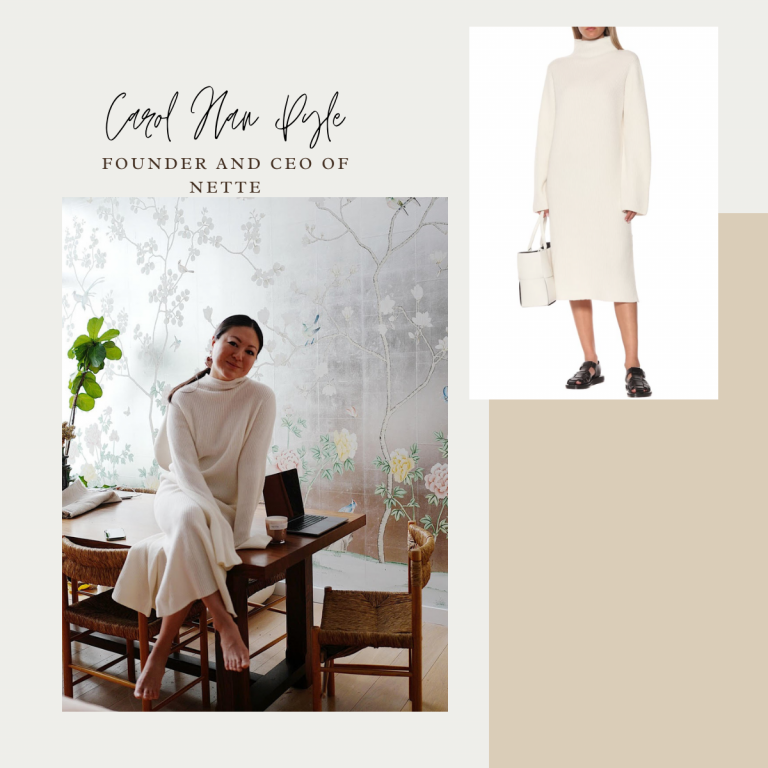 On her WFH outfit style…
Working from home is all about looking put together and professional while simultaneously maintaining a maximum level of comfort. For days when I have a million Zooms, I throw on a super soft and cozy sweater dress. This one by The Row is so warm and I love that it's nice and loose. I have zero interest in wearing anything fitted these days! And then it's all about the accessories. I love a fun earring like these by Bottega Veneta and our Nette scrunchies that we made in collaboration with Gigi Burris always add a little something.
On dressing up her sweats…
I definitely have sweats days more often than not! I'm obsessed with the snap-front ones by Les Tiens—so good for petite gals (I'm only 5'1"). But a couple of days a week, I'll make more of an effort and put on a cozy, voluminous sweater dress or one of Hill House's nap dresses.
On how her style has changed in quarantine…
I prioritize comfort 1,000 times more now. I have no idea how I dressed the way I did pre-quarantine! I was always in a "look" and always in heels. I can't even remember the last time I wore heels.
On how to switch up your WFH look while prioritizing comfort…
Accessorize! Even a sweatshirt can look elevated with a cool, chunky gold chain, and a hair accessory like a silk scrunchie or a headband can do wonders for looking pulled together with minimal effort.
Outfit Details:
The Row Moa Wool and Cashmere Midi Dress
Bottega Veneta Crystal and Enamel Hoop Drop Earrings
The Nette Take Good Care Set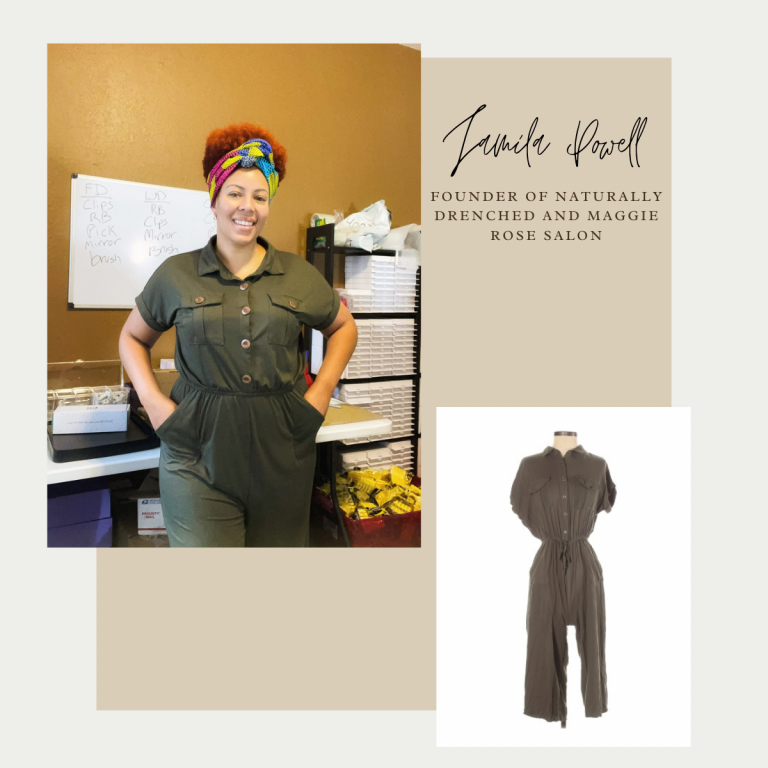 On her WFH outfit style…
My WFH style is all about comfort. You can almost always find me wearing my favorite cotton camo-print romper with pockets. I finish off every look with a colorful Ankara headwrap.
On dressing up her sweats…
Honestly…? I wear whatever is clean! Or something that I can easily throw on in the 15-minutes I have to get my daughter out the door and to school by 8 am.
On how her style has changed in quarantine…
I've never been much of a fashionista, so my style has pretty much stayed the same. Before quarantine, I was still doing a majority of my work from home. I literally have the same few dresses and rompers in rotation. If I want to spice it up, I'll throw on a new pair of sandals or slides.
On how to switch up your WFH look while prioritizing comfort…
Accessorize! A great piece can really set off the whole look and make it look entirely different. I always keep hoops and studs handy just in case I want to rock a statement piece.
Outfit Details: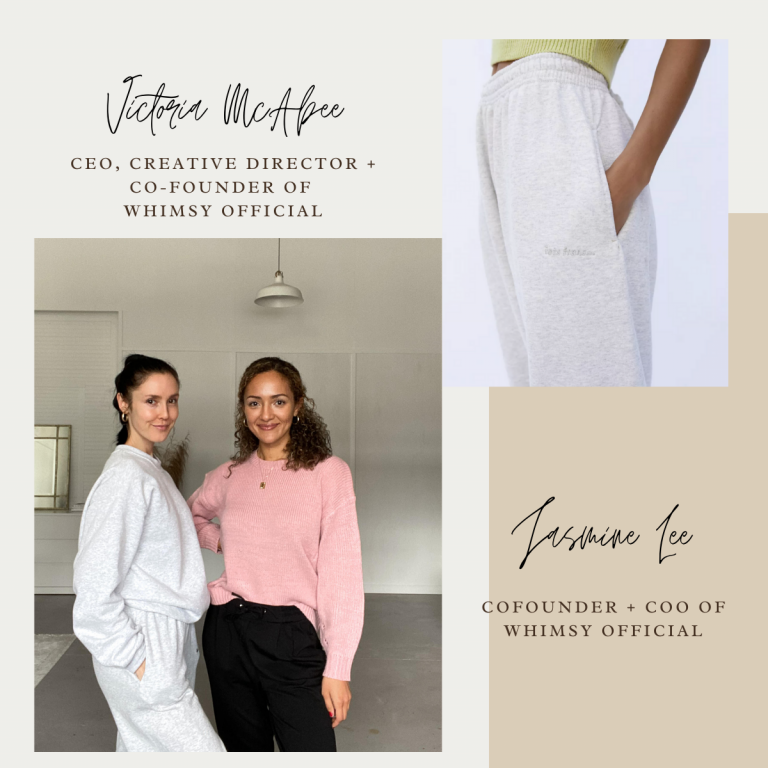 On her WFH outfit style…
Victoria: My WFH looks are as chill as they come. Even pre-COVID, I've always prioritized comfort, but now that I take so many meetings via Zoom, I like to keep things feeling somewhat polished! To spruce up any loungewear set, I'll wear my signature 14k gold hoops from Bent by Courtney, a classic gold necklace, and I'll gel brush my eyebrows and apply a coat of ILIA mascara.
Jasmine: When working from home, I like to feel "put together" in a way that motivates me and leads to more productivity, but I'm also not willing to sacrifice comfort. My sweater is part of a Princess Polly set that I've been able to make very versatile throughout the last couple of months, and my dress pants are Laundry by Shelli Segal.
On dressing up her sweats…
Victoria: Okay, okay… I'll be honest. Yes, I wear sweats almost 24/7. I have three to four favorites that I cycle through, my favorite being my yellow Après Sunday set (it's made sustainably in the UK from organic cotton). Occasionally, I'll break out a pair of my tailored trousers, but it just depends on my mood. I've never been one to dress to impress. I'm all about doing what makes me happy.
Jasmine: I'm usually in something super cozy, like sweats, but it varies day-to-day. If I have to hop on a Zoom call or any similar meeting, I tend to dress up a bit more for the workday. Sometimes I'll add a pair of gold hoops and a necklace to spice it up.
On how her style has changed in quarantine…
Victoria: I feel like COVID has allowed me to really embrace my natural style which I coin as a cross between feminine and boyish. Even my "dressy" looks still have a tomboy flair. Now that I don't feel *obligated* to dress a certain way, I'm having fun experimenting with different looks that make me feel stylish and comfy!
Jasmine: My style hasn't changed much since quarantine, but I definitely prioritize my personal comfort more than I used to. In 2020 a lot of brands introduced more stylish and trendy WFH outfits that make me feel professional, yet have the same level of comfort as typical loungewear.
On how to switch up your WFH look while prioritizing comfort…
Victoria: Pair classic pieces with casual pieces. For example, I like to pair my oversized vintage t-shirts with fitted trousers and some Prada boots. You really get the best of both worlds when you mix highbrow fashion with low-end fashion, then take it a step further by pairing the tailored pieces with the slouchy pieces. Am I an influencer yet?
Jasmine: If you're looking to prioritize your WFH style, yet remain comfortable, I recommend having a few "dressier" staple pieces in your closet that make you feel more professional but don't sacrifice that comfort. The Laundry by Shelli Segal pants I'm wearing is a perfect example of something that can be styled either super casually or professionally.
Outfit Details:
Victoria:
iets frans… Overdyed Jogger Pant
iets frans… Bubble Hem Crew Neck Sweatshirt
Jasmine:
Princess Polly Temptations Set
Laundry By Shelli Segal Pull-On Trousers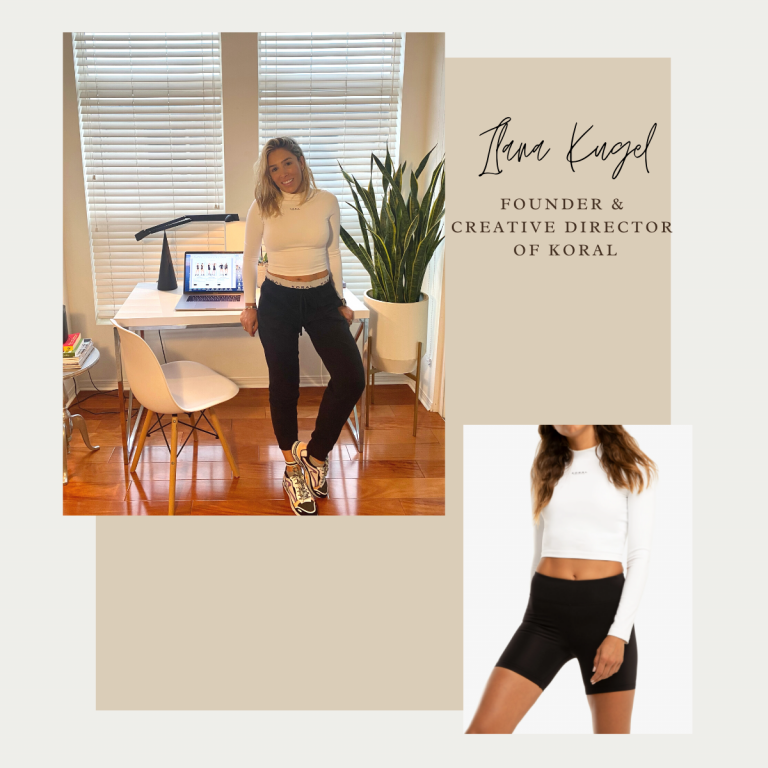 On her WFH outfit style…
In a word: transitional. My work from home outfit can take me from my morning workout to the office, to a photoshoot. I started and continue to design Koral with this exact dynamic in mind. My latest favorites Koral's Luca Blackout Crop Top, which is made which is sustainable both in fabrication and manufacturing, Koral's Station Sweatpants, and Sandro sneakers.
On dressing up her sweats…
I am always in active-fashionwear. My style is more elevated than athleisure; I always strive to look polished and dressed, however even before the pandemic, I always wore clothes that allowed for movement and comfort all day long.
On how her style has changed in quarantine…
My footwear game has changed significantly. I now incorporate more sneakers than ever before. My favorites are HOKA, Golden Goose, APL, and Sandro.
On how to switch up your WFH look while prioritizing comfort…
Regardless of the season, a great layering outerwear piece can really tie together your outfit. As it's been so cold lately, I often pair my favorite Koral leggings with our cozy sherpa jacket. As the weather turns, I'll grab a layering tee, a hoodie, or a light jacket.
Outfit Details:
Koral Luca Blackout Crop Top
Koral Station Sweatpants
Sandro Flame Sneakers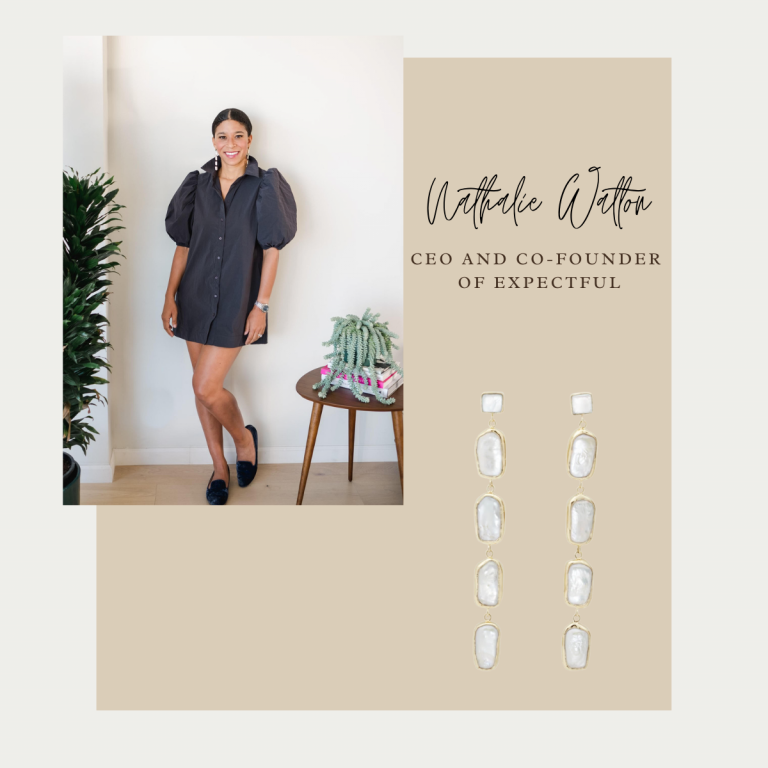 How would you describe your WFH outfit?
My WFH outfit is comfortable yet heavily accessorized. I'm the mother to my one-year-old son and the CEO of Expectful, who prioritizes fitness and mindfulness. On any given day, I need my outfit to seamlessly transition from a stroller walk to a zoom call with an investor, to sitting on my meditation cushion and back to more zoom calls.
I can achieve this balance by investing in comfortable yet business-appropriate attire from brands like Aday and Quince and curating a versatile accessories collection. I rely on headbands from Margeaux Priestly and Lele Sadoughi and statement earrings from Margaret Elizabeth to accent my upper body during zoom calls.
Do you wear sweats all the time now, or do you still get dressed for work each day (be honest!)?
I've found a way to wear "sweats" most of the time while still looking presentable for work. So many brands, like Aday, have up-leveled the concept of "chic sweats" so that I can feel comfortable and look professional.
How has your style changed since quarantine?
My style changed dramatically since quarantine began. I now prioritize comfort and usability in my wardrobe. I used to wear clothes that required me to go to the dry cleaners every week. One of the pandemic's terrible repercussions is that many small businesses, such as dry cleaners, were forced to shut down. Since I no longer have access to a local dry cleaner, I now shop for clothes that are not only comfortable but are also easy to care for.
What is your #1 piece of advice for people who want to switch up their WFH look but still want to prioritize comfort?
My favorite hack is to utilize shirt dresses. I can go from wearing my most comfortable workout clothes to boardroom-ready presentations (over zoom) just by throwing on a shirt dress. I view shirt dresses as a magic cape that can instantly elevate any outfit in less than ten seconds.
Outfit Details:
Zara Voluminous Dress
Marget Elizabeth Bomba Pearl Earrings
M Gemi The Petalo Due Loafer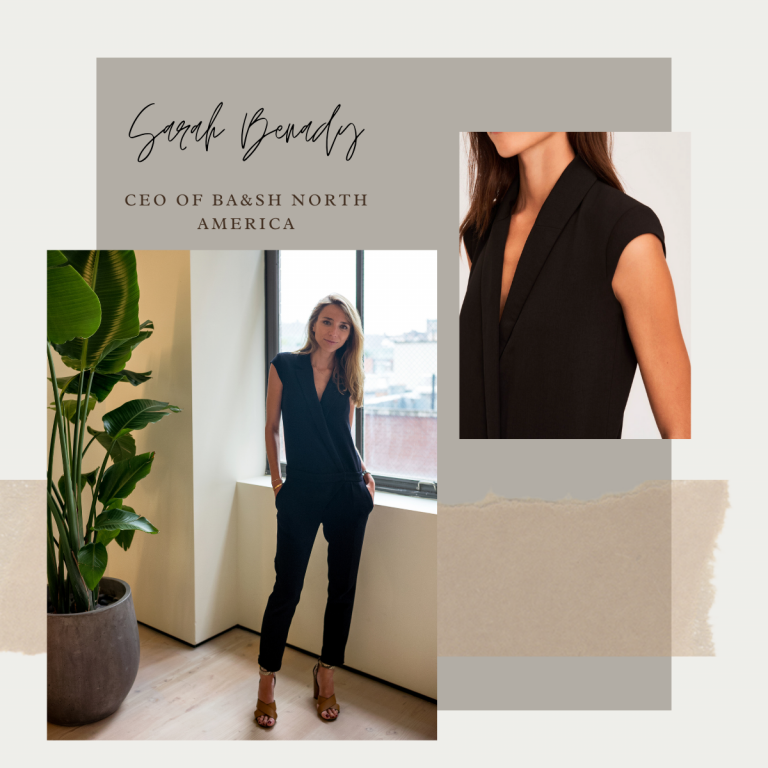 On her WFH outfit style…
I usually mix-and-match a comfortable piece with a more polished one whether it's a Pangaia sweatshirt underneath a ba&sh blazer or a relaxed ba&sh dress with an oversized cardigan. I find it keeps me motivated and in the right mindset to get even a little dressed up.
On dressing up her sweats…
Right after lockdown last year, I was often in loungewear while WFH but in the last few months, I've been able to go into the office on a regular basis, which has been incredibly refreshing. We work out of Spring Place in Tribeca and they've done a terrific job putting in place safety precautions. It's been so nice to get dressed up a bit even just to go into work and also to see my team wearing the newest ba&sh collection pieces.
On how her style has changed in quarantine…
It's definitely become more casual. I've purchased more hoodies and leggings than ever before in my life! However, I have to admit that I cannot wait to get really dressed up again… I believe there will be a post-COVID revenge shopping mentality, and I'm already eyeing chic maxi dresses and other special pieces to invest in for that occasion!
On how to switch up your WFH look while prioritizing comfort…
I think dresses are often overlooked in WFH style. I've actually really enjoyed wearing some of our more relaxed silhouettes like the Nancy while WFH because they are extremely comfortable while still providing an instantly sophisticated air. They also easily transition to a date night in or out, weekend brunch with the girlfriends, etc!
Outfit Details:
ba&sh Treena Tuxedo Jumpsuit
Gucci Candy Cross Ankle Strap Sandals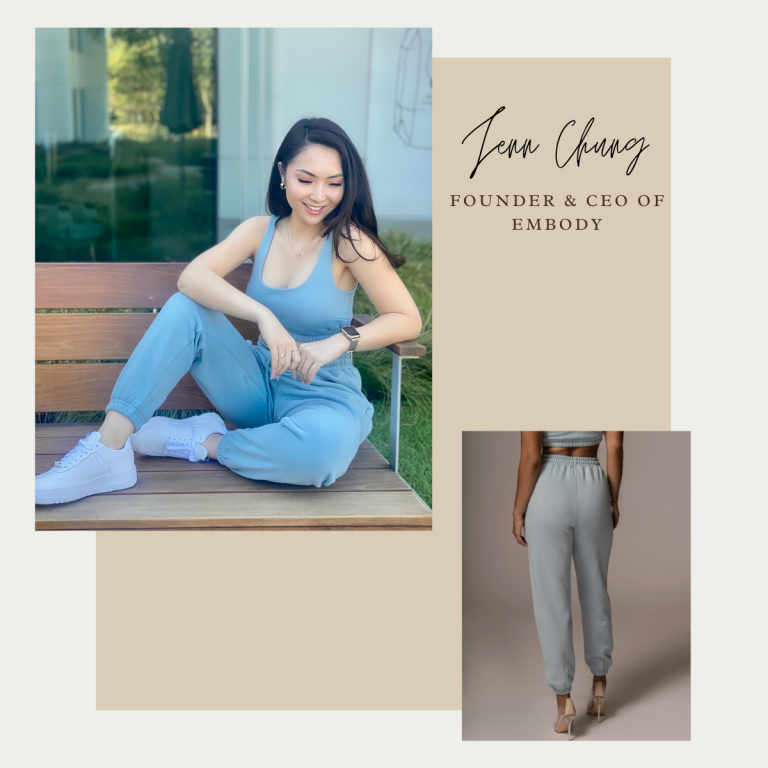 On her WFH outfit style…
My WFH outfit must be comfortable but I love spicing it up with stylish loungewear. I love pieces that can go from couch to going out with the addition of a few accessories.
On dressing up her sweats…
As much as I love a good pair of reliable sweats, I find myself feeling my best when I dress up. Most of the week, I am physically in the office so I enjoy the opportunity to be stylish. When I'm looking my best, I feel my best and that is very much reflected in my productivity.
On how her style has changed in quarantine…
I definitely had plenty of time to shop during quarantine which gave me the chance to explore different brands and styles I wouldn't have tried before. For example, I discovered how to style sneakers. Now, I'm obsessed with wearing my white Nike Air Force 1's with every outfit.
On how to switch up your WFH look while prioritizing comfort…
You don't have to sacrifice your comfortability for productivity. There are plenty of ways to dress the part without feeling uncomfortable. Clothing brands are catching on quickly. They know you want to be comfortable, stylish, and presentable so you'll be seeing more WFH collections this year. Keep an eye on them because they're going to be upgrading your WFH look.
Outfit Details:
JLux Label Lalae Unisex Oversized Sweat Joggers
JLux Label Nadala Fleece Crop Top
Nike Air Force 1 Sneakers
What do your work from home outfits look like these days? Are you over sweats yet? Sound out below!
Read this on A Healthy Life, Well Styled
                  Advertising by Adpathway